Terminus Est 0.9.12alpha
Mac OS X GUI for the foma finite-state machine library
GPL License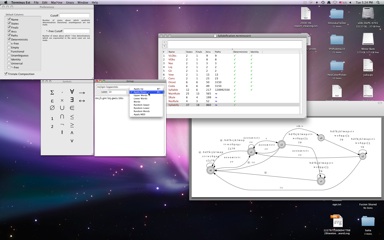 Click for a 368K screen shot of Terminus Est in action.
Download Terminus Est 0.9.12alpha (800K). 32/64 bit Universal Binary.
Source code available on request. We haven't determined yet how the two codebases fit and I made some yucky changes to foma proper,
so for now I want to discourage tinkering with what almost amounts to a temporary fork.
Please note that this software is an incomplete alpha version; it is somewhat usable but is really only suited to testing. Use at your own risk.
Compatibility
This software is only for Mac OS X 10.5 and later. I do not plan to support earlier OS versions.
Features
Easy regex compilation and viewing (AT&T Graphviz required).
All common unary operations on machines available via menu items.
define a machine by compiling it and then renaming it the machine list.
IPA Palette-based symbol input window.
Partial Japanese localization.
Save both native (bundle containing machines and defines in foma native format) and Prolog file formats.
Imports .lexc, single regex, and opens script-like files (one per line, prefixed with "re" or "def").
Single-machine AT&T file export.
Fixed or Added in this Release
It has app and document icons!
Function definitions now compile.
Recent regular expressions are saved in the document bundle.
Various bug fixes.
Problems
No documentation!
Function definitions are not displayed anywhere in the interface yet.
File saving does not preserve function definitions. Can foma even save these to a file?
There are memory leaks in the foma regular expression parser and elsewhere.
MED application prints to standard output instead of being capturable by the GUI.
Defined and undefined machines are displayed potentially in a different order from previous save when a Terminus Est document is opened (the defines are always loaded last).